JANAKI (JAN) RAMACHANDRAN
MBA (Aust), FGIA (Aust), FCIS (Lond), ACIM (Aust), MSP®
Programme Management Practitioner MSPR/A007897
Managing Director & Principal Consultant
Janaki Ramachandran founded Facilitrade in September 2000. She has extensive and proven experience in Business Capability Improvement, Corporate Governance, Trade Facilitation and Program/Project Management. She is also a registered Plan Management Consultant for the National Disability Insurance scheme.
She qualified as a Chartered Secretary while working with SGV Management Consultants/Price Waterhouse Coopers advising boards of directors on company law and setting up foreign companies in Sri Lanka during an influx of foreign investment in Asia.
Since migrating to Australia she held senior management positions across various industries till 1992. During this period, she was conferred with Associate, Corporate Institute of Managers and also graduated with an MBA from Macquarie University. In 1992 Janaki joined Austrade (Federal Department of Foreign Affairs & Trade) and had a diverse career of eight years in export facilitation, heading the global Market Research, Quality Assurance and Performance Measurement Divisions encompassing over 90 offices in around 60 countries.

A highly driven and practical Principal Consultant passionate to the cause with a relentless focus on reaching organisational objectives. Significant experience in implementing Program and Project Management Frameworks, defining effective service improvement processes and delivering to compliance standards. Janaki believes in a participative style of team building from the outset to focus on delivering successful outcomes.
In August 2000, fuelled with a passion to enhance organisational performance by using her diverse skill sets, Janaki set up Faciitrade.
As a Fellow of the Governance Institute of Australia and since earning an MSP® Practitioner's Licence in 2013, her focus has been on Program and Project Management, successfully delivering large programs in Customer Experience, Business and Technology Transformation and Governance Procedures. Her ability to nurture working relationships at all levels and effectively manage stakeholders has enabled her success in these large Programs and Projects.
Cross functional collaboration to deliver projects and execute strategy to achieve results are her acclaimed strengths. Janaki has a passion for working with people from various backgrounds. This is enhanced by her qualification in Training & Assessment, extensive experience as a Mentoring Executive for Macquarie University Alumni and her person centric approach realising that people are a crucial resource for the success of any program.
Janaki is highly driven and passionate about servicing disadvantaged communities personally and professionally. She is known for her entrepreneurial drive, business acumen and her dedication, and relentless focus on reaching targets.
RAMA RAMACHANDRAN
FCPA (Aust), ACMA (Lond), CGMA (USA)
Finance Director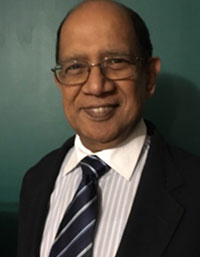 Rama excels with over 25 years of experience in Cost and Management Accounting in Canada, England, Sri Lanka and Australia. His industry experience spans pharmaceuticals, timber, textiles, paper, cosmetics, FMCG, automobile and aviation industries.
Rama Ramachandran has a deep insight into factory processes, procedures and costing techniques to assess operational efficiencies in these areas and improve productivity. Areas of expertise include implementing fully automated ERP systems such as Oracle, J de Edwards and Baan; building costing systems such as Zero Base, Activity costing and Marginal costing; establishing recovery rates by work centres or profit centres; building manufacturing budgets; establishing costing policies and procedures; developing stock control procedures and input into Strategic Planning by projecting manufacturing capabilities and output.
He is a master at achieving cost and operational efficiencies in business processes and critically analysing cost variances and the determination of the Break-Even point. He supports Janaki in assessing and achieving cost efficiencies and considers this an integral part of every assignment Facilitrade undertakes.
His winning ways and people skills have enabled his success in large projects across the functional divides of organisations. His cricketing and sports background have made him an excellent team player with an easy participative style whether it be with manufacturing teams, senior executives or members of the Board.